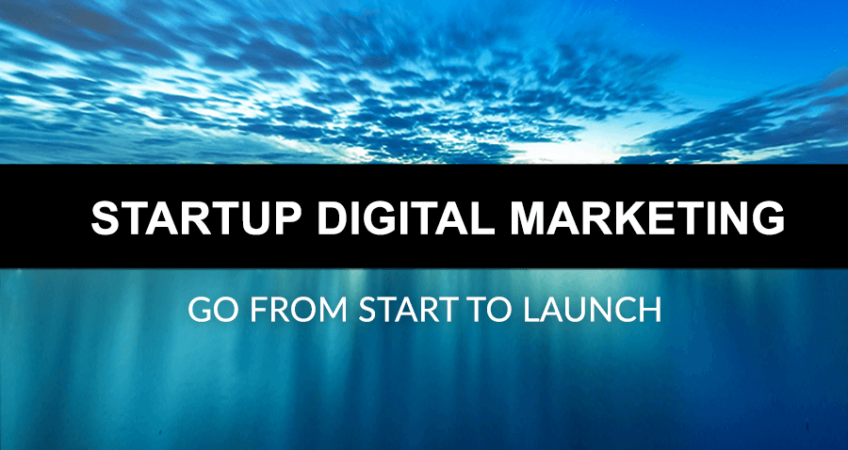 Startup digital marketing: How to launch
Learn tips to set up digital marketing

for the first time.

It takes time, effort, and money to build up clients and customers online. If you are planning to launch a business, you may be concerned about what you should do first. And if you are bootstrapping the business out of your own pocket, you need to know what you should spend money on and what can wait. This how-to guide will explain why you should follow a specific order when you prepare to launch your new business online.
1. Your pitch is the essence of your marketing

 
Before you tackle digital marketing, you should work to refine your pitch. When you promote your business to anyone online you will be pitching to them. Your pitch should achieve these objectives: 
Specify a customer/client need

 

Detail the value of your solution

 

Explain the steps needed to purchase

 

Demonstrate credibility and trustworthiness

 
Over time you should develop various pitches for different situations. Write them all down because they are the seed of all your business communications. Perfect your pitch in networking sessions. Find diverse groups to network with so you can test what is working.
2. Competitive positioning
When you promote your business, you need to explain why you are better than the rest. To do this, research how you fit into the market. Details from this research will help you convince a lead that you are the better choice.   Start by doing a Google search in your zip code for similar businesses. The difference between your business idea and theirs should be obvious. Then search for businesses with similar descriptions. This is where the differences will be more subtle. Do not stress over this step. Your differentiating feature might be as simple as the fact that you offer delivery. It does have to be a difference that presents a choice for the buyer.

Power tip: Take notes while you research. You need a list of words to describe your business.   
3. Planning navigation and content for your first business website
Decide what pages you need on your website and how you can present information in menus and sub-menus. Aim for a tidy and efficient information structure to make your website easy to use. No need to reinvent the wheel. Labeling should be clear and intuitive.   A starter website includes these pages and purposes: 
Home page  
What does your business do for the user?

 

Why should someone buy your product and service instead of another?

 

Calls-to-action
About page  
Experience and skills

 

The reason you went into business, mission, values

 

Why should they trust you?

 
Product and service pages 
Each category or service offering should have its own page and its own call to action.

 

Call-to-action buttons might lead to your contact page where a user can contact you, set up a consultation, or checkout. 

 
Contact page 
How to reach you

 

Preliminary information the user might need

 

Form with questions to fill out that the business needs

4. Startups should write the first drafts of their website
Draft 500-700 words per website page to rank well in search engines. It is not just quantity, the quality of writing matters.  Think about it, Google's job is to match a buyer with the perfect seller. How do they do that? They use software to scrape website text for clues as to what you do and how it fits into the marketplace. The more descriptive your website is, the better chance you have of being matched up with the right buyer You, the business owner, must write the first draft because no one knows your business's "what", "how", and "why" but you. Envision your buyers and write.  The other reason you need to put down the first draft is that your word choices and sentence phrasing say a lot about your brand voice. Ideally, the way your website is written will indicate what it is like to work with you. Decide if you like the text to sound casual or formal. Play to the strengths of your knowledge and personality. And be sure to sound friendly, you are in business to serve others.  
Hire a professional writer to optimize the final draft of your site  
It's worth it to spend the money and have a professional content writer work on the final draft. Hire someone trained in storytelling, grammar, and branding. You need a writer who understands how to write for search and can prove they have produced traffic or ranking results.   The preliminary work a search engine optimization (SEO) writer does is essential. The groundwork this specialist can perform helps you get organic leads. An organic lead is someone who comes to your site after entering keywords into a search engine.

Power tip: The quality and format of text on your site is important for search engine optimization.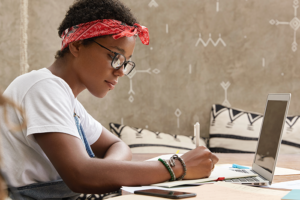 Professional writers have skills that create a strong start for your marketing efforts
SEO writing is technical. Professional content writers with training and experience can help with keyword research, tagging, and important descriptions for marketing. The most important writing for the small business online is your meta description. This description goes into your website and constitutes the blurb that is shown under your business name on Google, Bing, DuckDuckGo, Yahoo, and other search engines. 
Set up your website for organic traffic
Search engine optimized writing makes a significant difference in drawing in organic leads and website ranking. It is foundational work for marketing, sales, and advertising.
Best practices for writing a meta description
Your meta description can be extracted from your elevator pitch and needs to follow four rules: 
Start with a call-to-action

 

Include keyword(s)

 

150-160 characters (including spaces)

 

Matches the content of the first headline and paragraph

 
Read more meta descriptions if you want to write yourself, but any professional digital writer should be a master at this. They should also be able to help you with page descriptions for every page of your website. 
5. Brand identity and design
Brand design is important, but a logo will not help a potential buyer find your website. Limit spending a lot on design during the startup phase. Take advantage of free logo makers offered by Adobe and Wix. Once you have established yourself on social channels and made money, you can get a professional designer to help you design your brand identity.  

Power tip: When you start up your business, you may need to test your branding to see what sticks. If you don't experiment first, you may not be in a good position to buy more designs when you need to. 
Design-related fields should invest in branding upfront
If you are in design, clothing, makeup, hair, or any business connected to design, this is the stage when you need to invest in professional design work. Try to multi-purpose design assets so you get more use from everything you have made. For example, you might ask your designer for backgrounds, if they are custom, so you can reuse them for other marketing collateral.  To cut down on the cost of brand design development, create a folder of images that look like what you want. These can come from TV, billboards, magazines, or online. The images you select are what designers call a preliminary mood board. Mood boards are critical for achieving the look and feel you want. 

Power tip: To save money, find another startup design company, a graphic arts student, a photography student, or an overseas agency to get a better rate. 
Pick a website template and use the media library provided
When you choose a website template (empty website design you can fill), select a template that is close to the design you want. Newer templates come with some great free stock photos and graphic treatments that you can adapt. Be sure to also add real photos of yourself, your team, and your product or work-in-action to make your marketing relatable.  Be sure to compress these original images to a small file. Heavy image files will slow down the time it takes for your website to load.
6. Choose a domain name and get it registered
You will need to license a domain (an address on the web) under a business name. It is best to have the business name, website name, and social media page name that match.   Registering your domain name might be the first step to starting your business if you need to secure a website name that will have value.  Unless you already have name recognition with a huge following or customer base, add your service description in your name. This practical step helps with both search queries and business name recall. No one will have to figure out what you do only what you do well. Acronyms work for domain names too. Part of the success of acronyms are that they are easy to remember, especially if they have a good sound Once you've bought your domain, make sure it is registered to you.  Try for a dot com first but be prepared. These are the most desirable domains and there is a lot of competition. There are other options, however.
7. Build your website
If you have an aptitude for technical things, a WordPress site gives you a lot of control. Keep in mind that you will have to load essential plugins. A word of caution, your development process will take longer because if you haven't done it before, you will have to figure things out. 
For most folks who want to do minimal backend website work, there are platforms such as Wix, Weebly, and Squarespace that are designed to be the "plug and play" options. These prefabricated websites are content management systems (CMS) with easy drag and drop functionality. This feature makes it easy for newbies to put together a website quickly.  Start with your mobile view first. At least half of your users will find you on mobile. If you want a true all-in-one solution, go with Wix, which also offers hosting.  Find a template that is as close as possible to your needs. Because you will already have a working draft of your website in a text file, making this decision will be a lot easier. Every website template designed in the last few years is designed using user-interface (UI) principles. That means they are designed to be intuitive and frictionless experiences for the user. This is an especially important feature, so try not to make significant layout changes.  
8. Link strategy
In the beginning, the world wide web was made up of lists of hyperlinks that made up a huge reference library. That structure has not changed. Everything on the web is indexed according to: 
Internal links – internal web content between pages on a website 
External links – links that lead out to other sites for reference 
Backlinks – outside websites that link back to the business site 
All these links are essential for building authority and ranking strength. You need internal links to connect concepts. Connecting concepts makes it easier for the user to find what they need. Internal links also prove to search crawlers that you have a deeper understanding of your business area.   External links such as the ones used in this blog give the user a deeper understanding of the topic. They are included to help the user find out what they need to know from a reputable source.   Backlinks are essential for getting traffic to your website. Perform an online search for "free business directory listings". Start with directory listings that have the most authority such as Google Business Profile. You can set up a Google Business Profile by claiming your business in Google Maps. Other important backlinks are Facebook, Yelp, TripAdvisor, and any government website you can get to point to you. The Better Business Bureau is a good free one. Your local Chamber of Commerce costs a little money for membership, but it is worth the spend because it will lift your business website ranking in addition to other benefits.  You must have your business meta description and logo at least, to get your business listed.  A word of caution: some services will offer to put your information on 30 directories at once, but buyer beware. These services do not give you control over updating those listings and they sap traffic. Do it yourself or hire a web developer to get you set up with backlinks. 
9. Social media
Prepare to launch by creating posts and finding hashtags. Don't over-extend yourself by launching on a lot of platforms unless you have a dedicated social media marketer on your team. Once you open the faucet of social communications, you should keep the content flowing.   Join groups and find your groove. The primary reason for social media is to create a community. Social networks are built by posting but also by engaging with others.   By now you should have your description and some artwork to put in posts. You can also extract your website content for use in posts for the first few weeks.
The reason you should build a strong website before social media and advertising 
All roads should lead to your site to increase your ranking

 

A strong site will draw in warm leads without marketing

 

Writing on your site will help you decide what to put in social media posts and ads

 

Your advertising spend will be cheaper because you will know your keywords
Hashtags
There are a lot of tools you can search online to find hashtags that relate to your business. Your strategy should not be to use the most popular hashtags. Use the most specific. 
Launch day
Announce your launch using a variety of channels: 
Email

Social media

Phone calls

Trade announcement

Press release
 Layer upon layer of marketing is what works best. 
Tell supporters how they can help you
Launch day is an exciting stage in your business after a lot of effort. Friends, family, customers, and clients will want to congratulate you and offer to help. Take them up on it! Here's how they can give you a boost:  
A Google review

Share your launch news and posts

Follow and interact with me on social media

Ask them if they know anyone interested in your product or service

Tell them to go to your website
---
Need help writing your website?