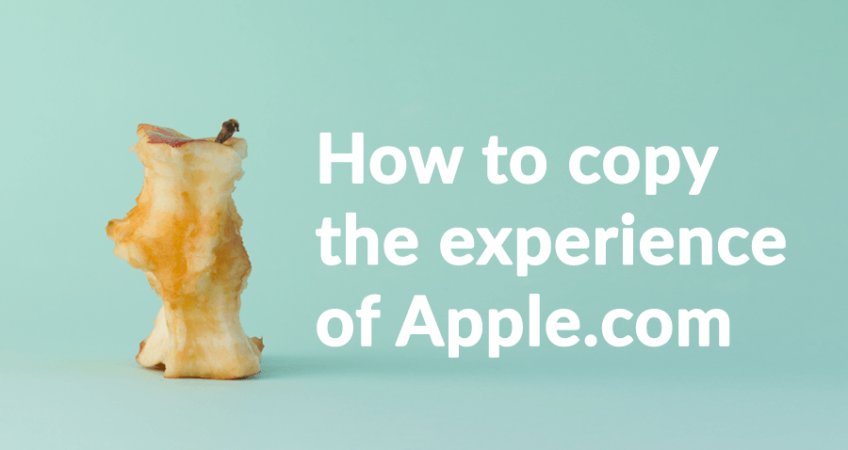 Sleek websites that perform in search
"Why do I need a lot of words on my site?"
This is a question we hear a lot from small business owners. Mint Writing recommends that startups launch a new website with 7,000 to 10,000 words of content. The simple reason is that rich and descriptive text performs better in search. Clients usually reply with a comment such as, "No one reads anymore, so I want minimal text and more images". Having enough text to get found and an efficient website experience is the goal. Here we will explain how to add sufficient content without the clutter.
The exemplary experience of Apple.com
If you've used the website of the tech giant Apple, you know how pleasurably streamlined it is. Apple makes hardware, software, and services to make our lives easier. Their website reflects their mission. The user journey is pleasure because you can get what you want quickly and effortlessly. The site is crafted by the best writers, user experience experts, and designers in the world. That's why we will use Apple.com as an example of what you can do for your own small business site.
The needs of Apple.com versus a small business site
You may think that Apple has no words and few pages and therefore you should too. You would be wrong. Apple.com, at this posting, has 123,000 words on their site according to weglot.com.
They also do a lot of testing and a lot of content marketing. The way we know that is that they have, at one time or another, recorded 5 million indexed pages with Google according to sitechecker.pro. They have plenty of content, they have just refined the experience, so should you.
Google E.A.T. algorithm and why it matters to you
Google updated their search engine in a way that impacts your business performance. Because we all look for the best online, Google advises business owners to develop content that demonstrates your:
Expertise
Authority
Trustworthiness
The 200-word page will never rank well under current conditions. You simply cannot meet these E.A.T. guidelines with skimpy content.
4 website development techniques takeaway from Apple.com
Have enough content to convince users and bots that you are awesome
When you start up your business, you need to persuade users and search engines that you have a great product or service. Getting your value proposition across so it speaks to every customer who may want to buy it, requires some details. Many small business owners think that people will get the gist and fill in the blanks. Some users will, some won't. Just about everyone knows what Apple does and sells. Very few people know who you are and what you sell. You have to build your online presence with content.
Create a scannable page with headlines
Few people have time to read everything. That's why headlines are critical. Give the user the opportunity to scan the page and get what they need with minimal effort.
The smart website development team at Apple knows that search bots think somewhat like people. That isn't as scary as it sounds. Bots were written by humans to serve humans. The search bot's job is to scan sights looking for signposts to catalogue. If you don't have the signposts, it's confusing for humans and bots. The signposts are the title of your page and the order of your headlines and sub-headlines. Think of an outline format and you're headed in the right direction.
Adapt the experience to the user
The general public sees 10 menu headers on Apple.com at the time of this writing. The reason that doesn't compute with 150 or more pages that sitetracker.com found is that many of the pages aren't navigable unless you need something special. In that case, Apple creates a personalized page just for you, called a landing page.
Another way to reduce content clutter is to use an accordion format or a CSS hide text feature. Both of these will expand when you click or hover over the headings to reveal text. WordPress and every other prebuild website, such as Wix, has collapsible sections you can use to shrink and expand with a click.
Use personalized landing pages
Just guessing here, but Apple.com wouldn't miss out on the most effective marketing tool, the landing page. It would explain at least some of those unnavigable pages.
The anchor of content marketing is the landing page. These pages use a simple design that serves the purpose of converting or selling to a specific buyer persona.
When you write customer emails about a new product, don't send them to your home page and make them go through the steps to purchase. Warm up the lead in the email and send them to your landing page to buy. Entrepreneurs can use landing pages to capture emails. Here are three primary reasons anyone would click-through to a landing page:
Tell you something you are interested in such as advice or news
Give you a discount or first dibs on a new product
The big Apple.com user-interface tip
Use what designers call negative space (blank bits of background) to open up your site. The less crowded the experience, the easier it is for the reader to see what's important to them.
---
Need more content to rank better in search? 
Mint Writing can help fill out your website with content that meets the Google E.A.T. guidelines. Take advantage of a free consulation and quote.