WRITING WITH THE NEEDS OF THE USER IN MIND
When someone bothers to come to your business website, they have an agenda. When you make fulfilling this agenda a priority, you give satisfaction. Invite all users to access your website with writing and information architecture that follows WCAG 3 accessibility rules. All websites can work to improve the user experience (UX) so that visitors achieve their goals quickly and easily. Consistency of voice and tone is another way you can create a personalized experience of your business offering.

Wix accessibility certified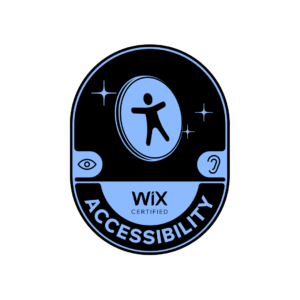 Write to reach everyone
This is not only a friendly thing to do, it makes good business sense. Make your site easy to read and you will reach more clients and customers.
Strong business writing doesn't have to create a barrier between you and your customer. If you have a professional service in business today, chances are that you know a lot about what you do. This expertise can sometimes create a word shield around you that doesn't let new customers in. Don't make everyone have to work at giving you their business. You don't want customers to abandon your site because it is too much of an effort to read.
Familiar terms and structures are a good thing
Website conventions have become established. The commonly used sign-in button can usually be found in the upper right-hand corner. When you use universal website terms, users don't have to think much, they are able to move around the familiar territory to get what they need.
The call-to-action button is perhaps the most familiar structure on websites. It is a command we all answer day in and day out. We may be over-familiar with some bad practices for writing the call-to-action. For example, it's better to describe where the button leads rather than relying too heavily on "submit" and "continue". We respond better when we know what the button leads to.
Your website is a tool for visitors
Write to explain what the user needs to know. Your site will not be welcoming if it is only selling. If you do a search of your home page for the word "we" and see the page light up with yellow highlights, you need to edit your site so it focuses on your clients and customers.
Give the reader confidence
When you use plain-speaking word choices and sentence constructions, you are meeting the user halfway. Confidence is lost when content is too difficult to figure out. When a business hasn't bothered to make an effort to remove walls of understanding, users can also feel uncared for. Creating a better user experience is a game-changer when you're communicating recommendations based on science or technology. When you serve your clients on your site, they will trust that you'll also put your energy towards serving them in other ways.
Write instructions that are easy to follow
Instructions should not be a bitter pill. Mint Writing will help you write rules and explain functionality for a frictionless journey. When you use word choices that are simple and encouraging, the user can focus on the task. Effortless reading is the goal. Mint Writing's experience in health care and business writing has taught us that regulatory writing doesn't have to be hard to read to be legal and private.
Digital tools to check for readability
Keep the text of your site below an eighth-grade reading level to follow the standard Web Content Accessibility Guidelines (W3.org) for readability. A quick way to check the readability of your website is to refer to the built-in SEO tools on your website. If you have a WordPress site, you may need to load an SEO plugin such as Rank Math or Yoast. These plugins will coach you on SEO and readability rules. In the draft stage, you can check your level of reading ease with the free Flesh-Kincaid reading tool.